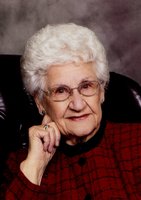 Marie Kummer
Parkston – Marie Kummer, 93, went to her heavenly home Tuesday, February 12 at Avera St. Benedict Hospital in Parkston. Funeral mass will be Saturday, February 16 at 10:30 am at Ss. Peter & Paul Catholic Church in Dimock. Visitation will be Friday, February 15 from 5 to 7 pm with a 6:30 pm prayer service at Ss. Peter & Paul Catholic Church in Dimock. Arrangements by Koehn Bros. Funeral Home in Parkston.
Marie was born January 14, 1926 to Edward and Hilda (Ehler) Weber on the family farm near Dimock, SD. She grew up on the farm and attended Ss. Peter & Paul Parochial School in Dimock. She was united in marriage to William Kummer on June 11, 1947 at Dimock. They lived and raised their 9 children on the farm. Marie was a member of Ss. Peter & Paul Catholic Church and Altar Society, was a hospice volunteer, delivered Meals on Wheels, visited many shut-ins, and enjoyed quilting, cooking, puzzles, playing cards and traveling. She loved being a mother, grandmother and great-grandmother and attended many of her grandchildren's events.
Grateful for having shared her life are her 4 daughters: Connie (Randy) Heitzman of Parkston; Joyce (Gary) Radel of Parkston; Myra (Jerry) Marquardt of Parkston; and Jo (Ken) Steffen of Sioux Falls, SD; 5 sons: William (Diane) Kummer of Ethan, SD; Wayne (Brenda) Kummer of Keystone, SD; Glen (Dee) Kummer of Ethan; Kurt (Peggy) Kummer of Parkston; and Gary (Brie) Kummer of Los Angeles, CA; 24 grandchildren; 39 great-grandchildren; and 10 siblings: Monica (Frank) Horstman of Dimock; Tom (Jeanne) Weber of Dimock; Nellie Hohn of Parkston; Rosi (Art) Jarding of Alexandria, SD; Tina (Eldie) Hohn of Dimock; Pat (Myron) Mogck of Parkston; Leetee (Ron) Koch of Mitchell, SD; Marge (Myron) Lang of Platte, SD; Millie (Tim) Wermers of Dimock; and Ed (Jan) Weber of Mitchell.
She was preceded in death by her parents; husband, William; 2 grandsons, Michael Radel and Jeff Kummer; and 3 siblings, Bert Thuringer, Agnes Weber and Ivan Weber.