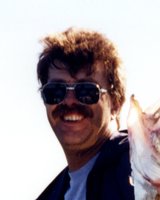 David Dean Schulz
David Dean Schulz of Mesa, Arizona, formerly of Parkston, SD went to his heavenly home on Saturday, May 29, 2021. David was born on September 28, 1959 to Ervin and Lorraine (Fuerst) Schulz of Parkston. David attended Kulm Elementary School near the farm he grew up on. He attended and graduated from Parkston High School in 1977. After graduating he attended and graduated from Mitchell Area Vocational School in 1979 as a Automotive Mechanic. He was employed at Wynia Implement Inc at Platte SD. He later moved to Rapid City and was working at Midwest Machine and Parts. He continued his work as a machinist and mechanic in Deadwood SD. He also worked at the mine in Lead. While living in Deadwood, David was married and later divorced in Arizona.
In his spare time David was an avid drag race driver and fan. He won several drag races in Marion SD, and Douglas International Raceway in Douglas Wy. Upon moving to Arizona David continued in the racing world building and repairing his beloved race car, Mr. Shaker. While working as a mechanist in Arizona he became the top crank shaft mechanist in the Phoenix Arizona area.
Due to a previous back injury, David was unable to continue his crank shaft repair work and delivered newspapers for several years until shattering his ankle. He then retired. He enjoyed watching Arizona Diamondback baseball, Phoenix Suns, Basketball, Arizona Cardinals Football as well as Arizona College sports. He also watched all types of racing on TV. He also loved fishing with friends and family when in SD,
David is survived by 1 sister, Dorothy Schulz, Pickstown, SD and 2 brothers, Dennis (Sharon) Schulz, Lake Andes SD and Douglas (Carol) Schulz Geddes SD. Many nieces and nephews and special friends, too many to name. He was preceded in death by his parents Ervin and Lorraine Schulz and Grandparents.