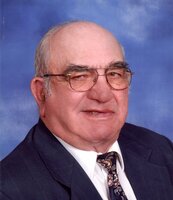 William Mathew Roth
Parkston – William Roth, 87, went to his heavenly home Saturday, November 6 at his home near Parkston. Funeral mass will be Friday, November 12 at 10:30 am at Sacred Heart Catholic Church in Parkston. Visitation will be Thursday, November 11 from 5 to 7 pm with a 7:00 pm prayer service at Sacred Heart Catholic Church in Parkston.
William Mathew Roth of Parkston completed his earthly journey on November 6, 2021. William was born on June 22, 1934 to Carl and Elenora (Friedrich) Roth. He graduated from Parkston High School in 1952. He entered the U. S. Army on September 8, 1955 and was honorably discharged on August 14, 1957. He was stationed in Germany and savored his time off by traveling to other countries including Rome and the Vatican. He worked at Parkston Produce and Hatchery until he started farming full time. He married Bernice Oberembt on February 11, 1958 at SS. Peter and Paul Catholic Church in Dimock, SD. He also served in the U.S. Army National Guard until January 22, 1960. William farmed until retiring at the age of 80. He enjoyed reading, playing cards, woodworking, welding and metal fabrication. He died at his home near Parkston at the age of 87.
Grateful for having shared his life are 6 children: Steve (Barb) Roth of Parkston, SD; Doris (Allen) Brunsen of Mitchell, SD; Dan (Cindy) Roth of Mitchell, SD; Diane (Brad) Baumiller of Parkston, SD; Sandy (Don) Nelson of Spearfish, SD and Kimberly (Sean) Montoya of Lakewood, CO; 15 grandchildren: Jeff, Jarrett, Jacob and Jacey Brunsen; Brittany Schoenfelder; Nikki Reichert; Lindsey Roth; Natalie Kriese; Megan Roth; Wesley and Aaron Baumiller; Amanda Geffre; Tony and Andy Nelson; and Eddie Montoya; 18 great-grandchildren; brother: Wilfred (Arlene) Roth of Minnetonka, MN; in-laws: Delores Roth of Hurley, SD; Alvina Roth of Parkston, SD; Bill (Edna) Oberembt; Sr. Doris Oberembt, Elaine Kirsch, Adeline Oberembt, Rose Oberembt, John Simon, and Ray Schnieder.
He was preceded in death by his parents, wife: Bernice, sister, Rita Hohn, and 3 brothers: Albin, Norbert and Ivan Roth.