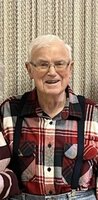 Myron John Mogck
Parkston - Myron John Mogck, 87, died at his home in Parkston on Thursday, June 23, 2022. Funeral service will be Thursday, June 30, 2022 at 11:00 AM at Parkston Congregational Church in Parkston with visitation an hour prior to the service. Committal service will follow the funeral service at Parkston Protestant Cemetery in Parkston. Arrangements by Koehn Bros. Funeral Home in Parkston.
Myron John Mogck was born on February 15, 1935 to Dewald and Maggie (Fuerst) Mogck at home on the family farm. He attended Lake City Country School through the 8th grade. He entered the U.S. Navy in 1955 and was honorably discharged in 1957. While in the Navy he earned his GED. On June 10, 1960 he married Patricia Louise Weber in Laverne, MN. They started farming in 1957 until retiring in 1990. Myron drove bus for Parkston School District from 2000 to 2012. He was a member of Parkston Congregational Church where he served on the church board and served on the township board. He enjoyed fishing, traveling the United States and Minnesota Twins Baseball. He died in his home in Parkston on Thursday, June 23, 2022 at the age of 87.
He is survived by his wife, Patricia Louise Mogck of Parkston, SD, 3 children, Ronda (Robert) Berg, Kelly (Cheryl) Mogck, and Amy (Tyler) Baumgart all of Parkston, 9 grandchildren, Rebecca (Kurt) Weber, Robbie (Mateya) Berg, Riley Berg, Rocky (Jaycee) Berg, Samantha Mogck, Mariah Mogck, Chandler Baumgart, Jared Baumgart and Maggie Baumgart, 7 great-grandchildren, and sister, Alice Hager of Sioux Falls, SD.
He was preceded in death by his parents, sister, Allegra Meins, 2 children, Kevin and Mary, and granddaughter, Rachel Berg.