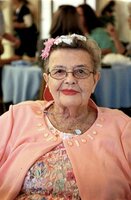 Margaret Marie Gilreath
Denver - Margaret Marie Gilreath, 90, died at Mullen Home, Little Sisters of the Poor in Denver, CO. Funeral service will be Saturday, September 17, 2022 at 10:00 AM St. Mark's Catholic Church in Lake Andes with burial following in Lakeview Cemetery in Lake Andes. Visitation will be Friday, September 16, 2022 from 5 - 7 PM at St. Mark's Catholic Church in Lake Andes with wake service at 7:00 PM.
Margaret was born on her grandparents farm just outside of Wagner, SD on July 23, 1932. Margaret went to heaven peacefully on September 4, 2022 at Mullen Home, Little Sisters of the Poor following a stroke placing her into hospice.
Margaret was the second of 9 children. Growing up she completed 8th grade and then stayed home to help her mother and with the younger children. She was very artistic and loved to draw people, saints, and anything else.
Margaret met the love of her life, Donald at a wedding dance in Wagner and they were married June 29, 1953. They moved to Sioux City, IA and then later to Pierre, SD. Around 1959 and 1960, they moved the family to Westminster, CO. They had 6 kids. After all the kids were in school, Margaret started working as a school bus driver's aide for the cerebral palsy kids in Westminster. Later she transitioned to driving the school buses. She retired from driving in 1989 after 20 years.
Margaret enjoyed her retirement and taking care of her grandchildren and great-grandchildren.
In 2009, Margaret moved to Wheatridge, CO in a senior apartment. Then in 2015 she moved to Mullen Home, Little Sisters of the Poor in Denver.
Margaret is survived by her children, Theresa Belville of Pittsfield, NH, Daniel Gilreath of Basing, WY, Marcella (Robert) York of Denver, CO, Peter Gilreath of Huntsville, AL, Henrietta (Jerome) Gilreath-Miller of Thornton, CO, and Michael Gilreath of Neosho, MO, siblings, Carol Blaha of Wagner, SD, Sandra (Chuck) Eitemiller of Armour, SD, John Uecker of Wagner, SD, Elaine (Alvin) Albert of Rapid City, SD, Dennis (Fern) Uecker of Round Rock, TX, sisters-in-law, Sylvia Uecker of Wagner, SD and Mary Smith of Pharr, TX, and numerous grandchildren, great-grandchildren, nieces and nephews.
Margaret was preceded in death by her husband, Donald Gilreath, parent, Marie and Bryan Uecker, brothers, Kenneth (Shizuko) Uecker, Richard Uecker, and Francis Uecker, grandsons, Christopher and Brandon Gilreath, and numerous nieces, nephews, and cousins.