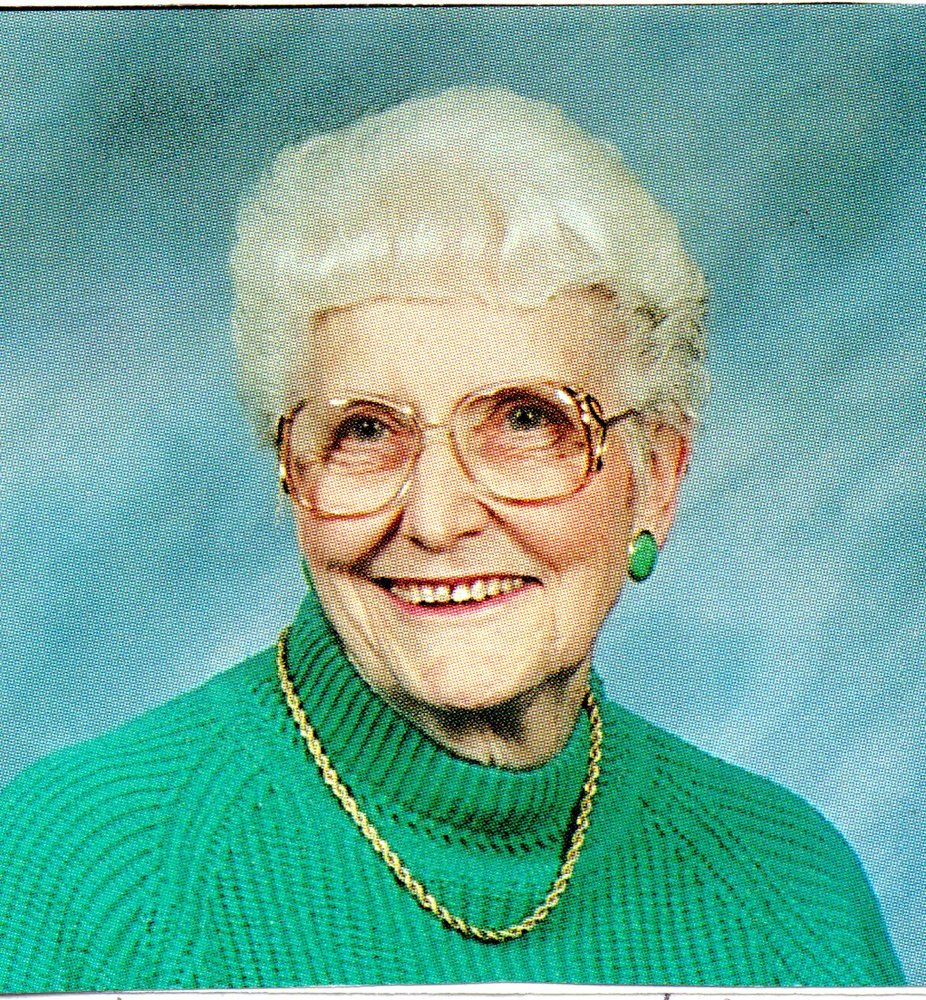 In Memory of
Bernice Titze
1924 - 2018
Obituary of Bernice Titze
Stickney - Bernice Titze, 93, died at Firesteel Healthcare Center in Mitchell on Friday, May 18, 2018. Funeral service will be Thursday, May 24, 2018 at 10:30 AM at St. Paul Lutheran Church in Stickney with burial following in St. John's Lutheran Cemetery near Dimock. Visitation will be Wednesday, May 23, 2018 from 5 - 7 PM at St. Paul Lutheran Church in Stickney with a prayer service at 7:00 PM.
Bernice Titze was born on June 7, 1924 on a farm near Armour, SD to John and Margaret "Maggie" (Groen) Heezen. In 1929, she moved with her family to a farm near Plankinton, SD. She attended school at Pleasant Lake School and graduated from Stickney High School. She then went to Southern State Normal School. For 3 years, she taught at the Helling School south of White Lake. She then taught in White Lake School for 3 years. During summer vacations, she worked in the ASCS office and in the office of the Aurora County Superintendent of schools. One summer she was a riveter in a war plane plant in California. In 1948, she married Leonard Titze and they lived on his farm south of Mt. Vernon. They were blessed with 6 children, Lois, Judith, Donna, Robert, Glen, and Ardis. Leonard died in a car-pedestrian accident in Mitchell in 1962. After his death the family moved to Pleasant Lake Township. In 1969, Bernice was hired as a clerk in the Stickney Post Office and the family moved to Stickney. She was a member of St. Paul Lutheran Church, Legion Auxiliary and Modern Woodmen. She enjoyed flowers, gardening, making quilts, playing cards and bowling. She died on Friday, May 18, 2018 at Firesteel Healthcare Center in Mitchell at the age of 93.
She is survived by her children, Lois (John) Muilenburg of Mt. Vernon, SD, Judith Witherspoon of Dallas, TX, Donna Collom of Apex, NC, Ardis (Mike) Merino of Oak Forrest, IL, Bob Titze of Plankinton, SD, and Glen Titze of Stickney, SD, 17 grandchildren, 2 step-grandchildren.
She was preceded in death by her parents, husband, 2 sisters, Lena (Lory) Zundel and Hazel (Bill) Harmon, 7 brothers, Richard (Evelyn), Ray, Ed (Loraine), Merle (Evelyn), Clarence "Tony" (Betty), Herb (Esther), and Wayne, who died in infancy, 2 grandchildren.
Armour
821 Main St,
PO Box 339
Armour, SD
57313
P:605-724-2370
LAKE ANDES
11 N. Main St.,
PO Box 613
Lake Andes, SD
57356
P: 605-487-7631
PARKSTON
309 W. Main St.,
PO Box 928 Parkston, SD
57366
P: 605-928-3241
STICKNEY
218 Main St., Stickney, SD
57375


P: 605-732-4246
CORSICA
125 S. Corse St., Corsica, SD
57328

P: 605-724-2370
GEDDES
220 S. Main Ave., Geddes, SD
57342


P: 605-724-2370