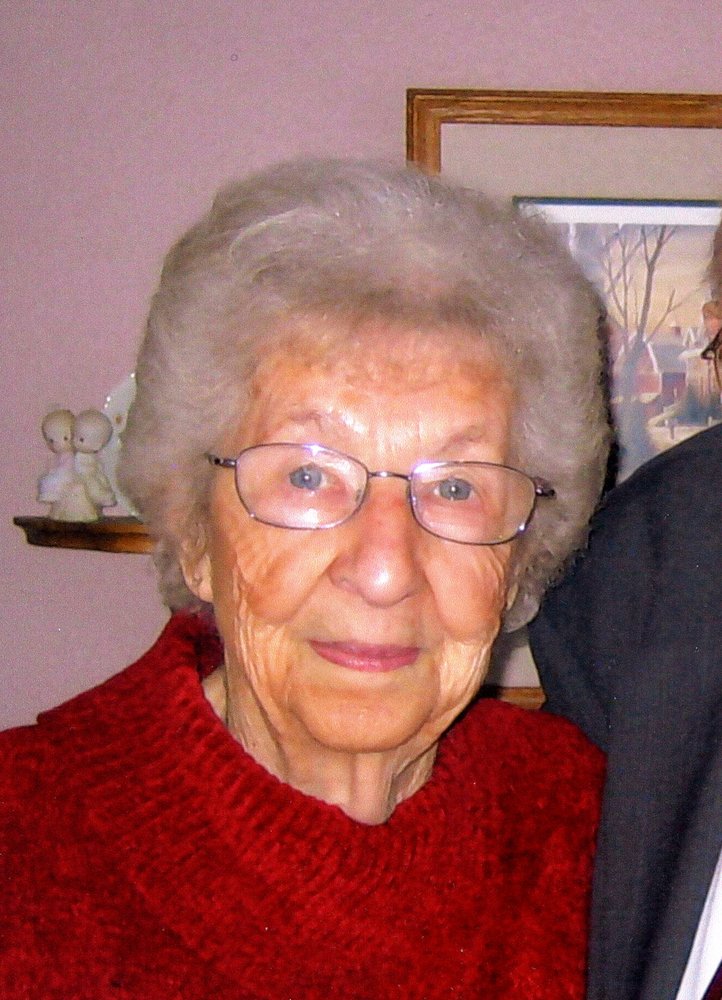 In Memory of
Helene Erna Fuerniss
1923 - 2018
Obituary of Helene Fuerniss
Helene Erna Fuerniss, 95, went to her heavenly home Thursday, June 7 at Douglas County Memorial Hospital in Armour. Funeral service will be Thursday, June 14 at 10:30 am at Zion Lutheran Church in Delmont. Visitation will be Wednesday, June 13 from 5 to 7 pm with a 7:00 pm prayer service at Zion Lutheran Church in Delmont. Arrangements by Koehn Bros. Funeral Home in Parkston.
Helene was born March 26, 1923 to Oscar and Lucy (Wegehaupt) Laufer in Janesville, MN. She was baptized in Janesville and in 1934, after the death of her mother, moved to South Dakota with her family. She attended Delmont Public School and graduated from Delmont High School in 1941. She was united in marriage to Arnold O. Fuerniss on December 21, 1943 in the Calvary Lutheran Church parsonage in Charleston, SC. After Arnold's discharge from the service in 1945, the couple moved back to the Delmont area where they farmed. In additon to helping on the farm, Helene worked as a cook in the Delmont School. In 1972, they moved to Fulton, SD where they lived for 10 years. During this time, she worked at Country Kitchen, Herbergers and Four Seasons in Mitchell, SD before retiring. In 1981, they moved back to Delmont. Helene was a member of Zion Lutheran Church in Delmont and enjoyed gardening and spending time with her family and friends.
Grateful for having shared her life are her 4 surviving children: Charner (Rebecca) Fuerniss of Byhalia, MS; Cheryl (Rich) Lockwood of Sallisaw, OK; Susan (Tim) Thuringer of Lexington, KY; and Charles (Elaine) Fuerniss Paris, KY; 14 grandchildren; 34 great-grandchildren; and a brother, Paul Laufer of Oregon.
She was preceded in death by her parents; husand of 66 years, Arnold; a daugher, Julie; a son, Terry; 2 granddaughters, Michelle and Teresa; 2 brothers, Carl and Martin and 2 sisters, Elfrieda "Fritz" Martinson and Esther Schelske.
Armour
821 Main St,
PO Box 339
Armour, SD
57313
P:605-724-2370
LAKE ANDES
11 N. Main St.,
PO Box 613
Lake Andes, SD
57356
P: 605-487-7631
PARKSTON
309 W. Main St.,
PO Box 928 Parkston, SD
57366
P: 605-928-3241
STICKNEY
218 Main St., Stickney, SD
57375


P: 605-732-4246
CORSICA
125 S. Corse St., Corsica, SD
57328

P: 605-724-2370
GEDDES
220 S. Main Ave., Geddes, SD
57342


P: 605-724-2370