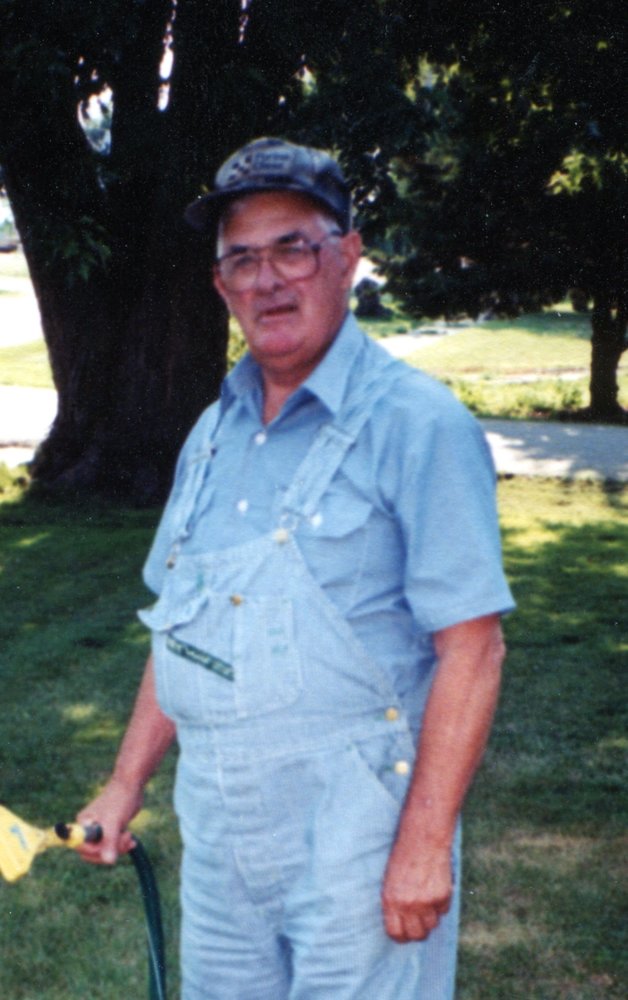 Obituary of Roland Rokus VanDenHoek
Armour - Roke VanDenHoek died at the Good Samaritan Society in Corsica on Friday, February 21st at the age of 91 years and 7 months. Funeral service will be Friday, February 28, 2020 at 10:30 AM at Grandview Reformed Church in Armour with burial following in Pleasant Ridge Cemetery in Armour. Visitation will be Thursday, February 27, 2020 from 5 - 7 PM at Grandview Reformed Church in Armour with a prayer service at 7:00 PM.
Roland Rokus "Roke" VanDenHoek was born on a farm north of Corsica, South Dakota on August 2nd, 1928 to Cornelius "Neal" and Pauline, nee Biesheuvel Van Den Hoek. He joined a brother John. Two other brothers, Veryle and Dalwyn would complete this brotherhood.
Roke attended Corsica schools and helped on the family farm and did odd jobs to help the support the family. He could recall many memories from his family farm life growing up during the "dirty thirties".
Roke met and fell in love with Belva Fideler and they were married on November 4th, 1949. To this union, 7 children were born: Terry, Glenda, Ronda, Renee, Mark, Carla, and Corey.
Roke held a few different jobs during the early years of their union, most notably, working for "Jupe" Hoekman and Cox and Wilson in Armour, for which he operated the brand-new ag technology, a portable mixer-mill.
While trying to establish a family farm, Roke and Belva rented several farmsteads in the Armour and Corsica area. Roke always said that about the time he had the farmsteads cleaned up and operational, it got sold or given to the owner's son. Roke and Belva and family moved to Armour to rent and then buy Belva's family farm Southeast of Armour, on which they lived until November 1998. After which they moved to Armour where he lived until recently.
Roke was a lifetime member of the Reformed Church, mainly Grandview Reformed, of which he has been a member for many decades.
He was an avid auction goer and could list the current value of any piece of farm equipment without fail. His uncanny ability to recall family trees, whether his own, or those of folks for miles around, drew people to him for his for fact-checking well into his later years. He could not only recite a person's ancestry, but also dates and times of events in their life.
His greatest gift was that of conversation and storytelling, often punctuated by his unique giggle.
Roke is survived by one brother, Dalwyn from Rapid City, South Dakota; 6 children, Glenda and Husband Jim Hohn of rural Mitchell, South Dakota; Ronda and Husband Larry Wilson of Armour, South Dakota; Renee of Sioux Falls, South Dakota; Mark and wife Louise of Mitchell, South Dakota; Carla and Husband Tim Campbell of Sioux Falls, South Dakota; and Corey and wife Amber from Sarasota, Florida. Roke is survived by 14 Grandchildren and 23 great grandchildren.
He was preceded in death by his parents, Cornelius and Pauline, two brothers, John and Veryle, his wife Belva, his son Terry, one son-in-law, Rodney Safar, and one great grandchild, Devon Jade Whiting.
In lieu of flowers, please direct memorials to the Armour Lions Club in support of the Lions Park.
Visitation
5:00 pm - 7:00 pm
Thursday, February 27, 2020
Grandview Reformed Church
27991 US-281
Armour, South Dakota, United States
Prayer Service
7:00 pm
Thursday, February 27, 2020
Grandview Reformed Church
27991 US-281
Armour, South Dakota, United States
Funeral Service
10:30 am
Friday, February 28, 2020
Grandview Reformed Church
27991 US-281
Armour, South Dakota, United States
Share Your Memory of
Roland
Armour
821 Main St,
PO Box 339
Armour, SD
57313
P:605-724-2370
LAKE ANDES
11 N. Main St.,
PO Box 613
Lake Andes, SD
57356
P: 605-487-7631
PARKSTON
309 W. Main St.,
PO Box 928 Parkston, SD
57366
P: 605-928-3241
STICKNEY
218 Main St., Stickney, SD
57375


P: 605-732-4246
CORSICA
125 S. Corse St., Corsica, SD
57328

P: 605-724-2370
GEDDES
220 S. Main Ave., Geddes, SD
57342


P: 605-724-2370