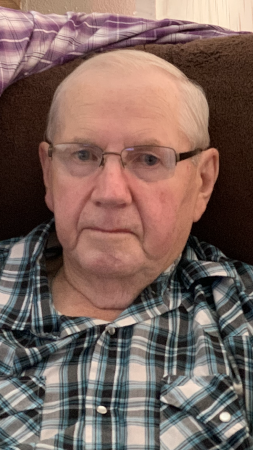 Obituary of Richard Charles Slaba
Please share a memory of Richard to include in a keepsake book for family and friends.
Geddes - Richard Slaba, 75, died at Platte Health Center in Platte, SD on Friday, July 10, 2020. Funeral service will be Tuesday, July 14, 2020 at 10:00 AM at St. Ann's Catholic Church in Geddes at 10:00 with burial folowing in St. Ann's Catholic Cemetery in Geddes.
Richard Charles Slaba was born on December 4, 1944, to Alvin and Tillie (Kisely) Slaba in Geddes, SD. Richie took over the family farm at the age of 15. He graduated from Geddes High School in 1962. On July 6, 1974, he married Colleen (Rete) Masur - his "Retezie Pie" - at St. Ann's Catholic Church. They just celebrated their 46th anniversary.
Richie enjoyed watching his children's sports activities, dancing, watching his Oakland A's and Indianapolis Colts, playing on and managing the Geddes baseball town team, listening to Don Williams, and playing cards.
On July 25, 2018, Richie entered the Lake Andes Nursing Home due to Parkinson's disease.
Richie is survived by his devoted wife Rete; son Matthew (Mieke) Slaba and their children Theodore, Presley, Cooper, and Avieleigh of Wagner, SD; daughter April (Toby) Russell of Mitchell, SD; daughter Joleen (Matthew) Urban and their children Lily, Justin, Caleb, and Sienna of Rochester, MN; son Bruce (Stephanie) Slaba and their children Delanie and Raleigh of Harrisburg, SD; daughter McKenzie (Adam) Frerichs and their children Oakley and Maddox of Mount Vernon, SD; brother Eugene (Lois) Slaba of Geddes, SD; sister Marie (Dean) McQuay of Rapid City, SD; and numerous nieces and nephews.
Richie was preceded in death by his parents, mother and father-in-law, 3 brothers-in-law, 3 nieces, and 1 nephew.
Pappy's Hands

Many years passed through Pappy's hands…

Buried his father at the too-soon age of fifteen
Looked after his mother until her dying day
Took Rete's hand in marriage as if she were a queen
Held his two boys and three girls for the first times

"Peace be with you" to fellow Catholics on Sunday mornings
Slow, high waves to passers while he trudged through our yard

Swung that baseball bat during Geddes's townteam baseball season
Pet his man's best friend while strollin' in from chores
Built snowmen to enjoy his children's smiles when it was freezin'
Clapped for his children when the scoreboard points increased

Uncontrollable shake: an effect of Parkinsons
Scribbled on checks to keep the old farm runnin'

Prayed and protected his children when beating their cancers
Never used his hands to show disappointment towards anyone
Reached to his heart to find all the answers
Flipped to ESPN to see if the Oakland A's earned yet another run

Stained with oil

Scarred with farming scrapes

Tossed those bulky bales
Steered the worn-out equipment
Pulled the trigger at pheasants while blockin' ends of fields
Clicked the mouse when he tried to break Mom's records

Held his grandchildren with adoration and admiration
Held Mom to show his caring love

Pappy's hands will always and forever be
The things in this life that dearly hold his family
Funeral Service
10:00 am
Tuesday, July 14, 2020
St. Ann's Catholic Church
303 5th St
Geddes, South Dakota, United States
Share Your Memory of
Richard
Armour
821 Main St,
PO Box 339
Armour, SD
57313
P:605-724-2370
LAKE ANDES
11 N. Main St.,
PO Box 613
Lake Andes, SD
57356
P: 605-487-7631
PARKSTON
309 W. Main St.,
PO Box 928 Parkston, SD
57366
P: 605-928-3241
STICKNEY
218 Main St., Stickney, SD
57375


P: 605-732-4246
CORSICA
125 S. Corse St., Corsica, SD
57328

P: 605-724-2370
GEDDES
220 S. Main Ave., Geddes, SD
57342


P: 605-724-2370