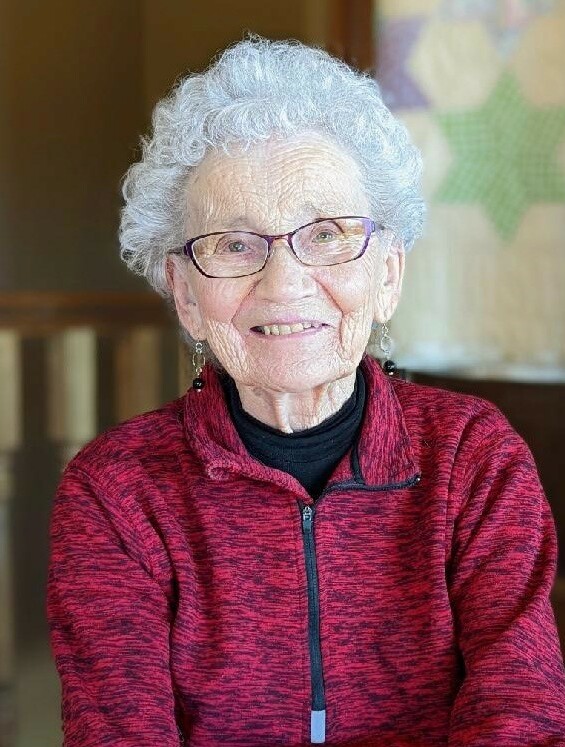 Obituary of Celine Martha Fergen
Please share a memory of Celine to include in a keepsake book for family and friends.
Parkston – Celine Martha Fergen, 95, passed away peacefully on Saturday, June 17 at Avera Bormann Manor with her family present. Funeral mass will be Friday, June 23 at 10:30 am at Sacred Heart Catholic Church in Parkston. Visitation will be Thursday, June 22 from 5 to 7 pm with a 7:00 pm prayer service at Sacred Heart Catholic Church in Parkston. Arrangements by Koehn Bros. Funeral Home in Parkston.
Celine was born to Fred and Anna (Nuebel) Jung on June 3, 1928 on a farm west of Dimock, SD. She was greeted by her aunt, who was a nurse and volunteered her skills to bring Celine into this world. Celine is the third oldest of five sisters and one brother. She attended Dimock parochial grade school and graduated from Parkston High School.
Celine met her husband, Francis Fergen, at a ballgame. He lived a few miles down the road from her. They were united in marriage on August 31, 1948 at Sts. Peter and Paul Catholic Church in Dimock. They were blessed with nearly 75 years of marriage. Together, they farmed west of Dimock where Celine helped with milking and chores in addition to raising their family of six children.
In 1983, they moved into Dimock for five years prior to moving to Parkston, SD. Celine worked at Avera St. Benedict Hospital in the Dietary department and later in the Housekeeping department for the next 7 years.
Celine enjoyed making quilts for every family member, sewing, playing cards, and baking (especially Christmas treats for the whole family). She made the best rolls and bread. Celine attended to a large garden on the farm, canned vegetables, and enjoyed caring for her flowers. Time spent with her best friends, her sisters, was something she treasured. They visited one another's homes often and have many special memories of being together with their families.
Celine was always putting other's need ahead of her own. She was a religion teacher, led the weekly rosary for 31 years, volunteered at the church, Avera St. Benedict Hospital and Avera Bormann Manor. For 30 years, she delivered Meals on Wheels with her husband as the driver. Celine is a life-long member of the Alter Society at both Parkston and Dimock Parishes.
Celine and Fran were active in the community up into their early 90's. They faithfully attended their grandchildren and great grandchildren's athletic events and school activities. In 2016, they were awarded Parkston Trojan Fans of the Year award from the Parkston Athletic Booster Club. They also enjoyed driving into the country and often stopped at the family farm for a visit.
In March 2022, Celine and Fran moved into Avera Assisted Living in Parkston and then to Avera Bormann Manor (Parkston) on August 2022.
Grateful for having shared her life are her husband, Fran of Parkston; 5 children: Larry (Sharon) Fergen of Parkston and their children, Jill Kalda and Heidi Rozeboom; Elaine (Ron) Leischner of Tripp, SD and their children, Ryan Leischner, Lauren Gruenhagen, and Luke Leischner; Kevin (Jenny) Fergen of Dimock and their children: Wes Fergen, Lacey Bonte, and Maggie Riggs; Keith (Jean) Fergen of Fernadina Beach, FL and their son, Ryan Johnson; and Bev (Donnie) McBrayer of Ethan, SD and their children, Shelby Gerlach and Wyatt McBrayer; a daughter-in-law, Audrey Fergen of Menno, SD and her sons, Chris, Brian, David and Danny Fergen; 3 sisters, Devona Finkenbiner, Betty Puetz and Jackie Schnabel, all of Mitchell, SD; a brother, Don Jung of Arvada, CO; 47 great-grandchildren with one on the way; and many nieces and nephews.
She was preceded in death by her parents; a son, Bill Fergen; granddaughter, Jessica Fergen; great-granddaughter, Swayzee Leischner; 2 sisters, Lorraine (Gene) Weber and LouAnn (Wally) Eimers; a sister-in-law, Meredith Jung; and 5 brothers-in-law, Gene Finkenbiner, Sylvester Puetz, Wally Eimers, Gene Weber and Harvey Schnabel.
Share Your Memory of
Celine
Armour
821 Main St,
Armour, SD
57313
P:605-724-2370
LAKE ANDES
11 N. Main St.,
Lake Andes, SD
57356
P: 605-487-7631
PARKSTON
309 W. Main St.,
PO Box 928 Parkston, SD
57366
P: 605-928-3241
STICKNEY
218 Main St., Stickney, SD
57375

P: 605-732-4246

CORSICA
125 S. Corse St., Corsica, SD
57328
P: 605-724-2370
GEDDES
220 S. Main Ave., Geddes, SD
57342

P: 605-724-2370